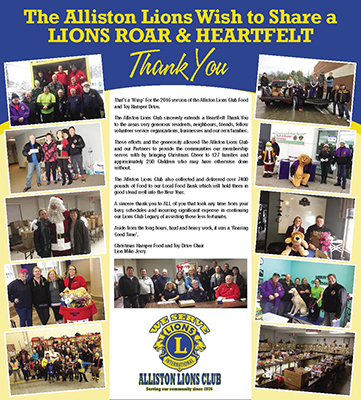 'That's a Wrap' (could not resist) for the 2016 version of the Alliston Lions Club Food and Toy Hamper Drive.
A sincere 'Thank You'  goes out to our very generous residents, neighbours, friends, fellow volunteer service organizations, businesses and our own families.
These efforts and the generosity allowed us to provide the communities our club serves with by bringing a little Christmas Cheer to approximately 127 families, 250 children this Christmas Season. We also collected and delivered over 7400 pounds of Food to our Local Food Bank which will hold them in good stead through January.
A sincere thank you to ALL of you that took any time from your busy schedules in continuing our legacy of assisting those less fortunate.
Merry Christmas, Lion Mike